Industry/ Service
Food & Beverages
Who We Worked With:
The client was a U.S.-based major ready-to-cook brand and a premier source for delicious, gourmet appetizers, hors d'oeuvres, premium entrees, and desserts for caterers, food service professionals, and retail customers. While the food selection was bespoke and loved by consumers, the scale of adoption was missing. A substantial portion of the business was coming from referrals. This ready-to-cook food brand approached RankUno with three objectives:
De-risk over-dependence on one channel
Remain cost-effective
Come up with a sustainable strategy to help the brand grow.
The Challenge
Business
The business model, which focused on wholesale and party appetizers, had to accommodate retail customers due to the COVID-19 pandemic.
The business had to keep up with the evolution of consumer search patterns in the food & beverages industry.
The evolving search engine landscape – increased competition driving changes in search engine algorithms.
User Experience
Restriction to update the existing website UI/UX interface.
Bulk orders – Place an order for four trays and above only.
Price mismatch between the price displayed on the product detail page and the actual price displayed at checkout.
Backend Content Management System (CMS)
Limited access to backend CMS.
Customized, non-standard CMS.
Technical SEO
Restriction to update breadcrumbs.
Restriction to update URLs (non-SEO friendly URLs).
Incorrectly canonicalized URLs.
Restriction to update schema markup for products.
Resources
Limited support from the development team.
Limited bandwidth to create new content.
Our Approach
Analyze the gaps in the existing website
Historical performance analysis – To understand the key performing sections of the website based on historical metrics.
Competition analysis – To understand the changing consumer search pattern and the evolving competitive landscape to conceptualize a value proposition that bridges the gap between consumer needs and desires.
Technical SEO analysis – To ensure that the website visibility and performance are not hampered in search engines due to technological advancements.
Linkscape analysis – To ensure the existing backlink profile demonstrates authority and trustworthiness in the food and beverages business niche and to identify new opportunities to enhance credibility in search engines.
Action
Resolved user experience issues, such as price mismatch issues, in coordination with the development team to optimize the checkout process.
Consulted on improving the basket value: Updated the backend system in coordination with the development team to accept single tray orders for strategic locations.
Prepared a content marketing strategy to boost the performance of existing content and identified opportunities to build content.
Technical optimization:
Optimized the on-page SEO for products, categories, key business pages, and related blogs manually and with a tool-based approach (leveraged insights derived from top industry tools, e.g., SEMrush, Ahrefs, Deep crawl etc.)
Resolved technical issues to improve the overall website health and visibility in search engines.
Optimized the Google business profile and are working towards building domain authority by formulating a local SEO link-building plan.
Outcome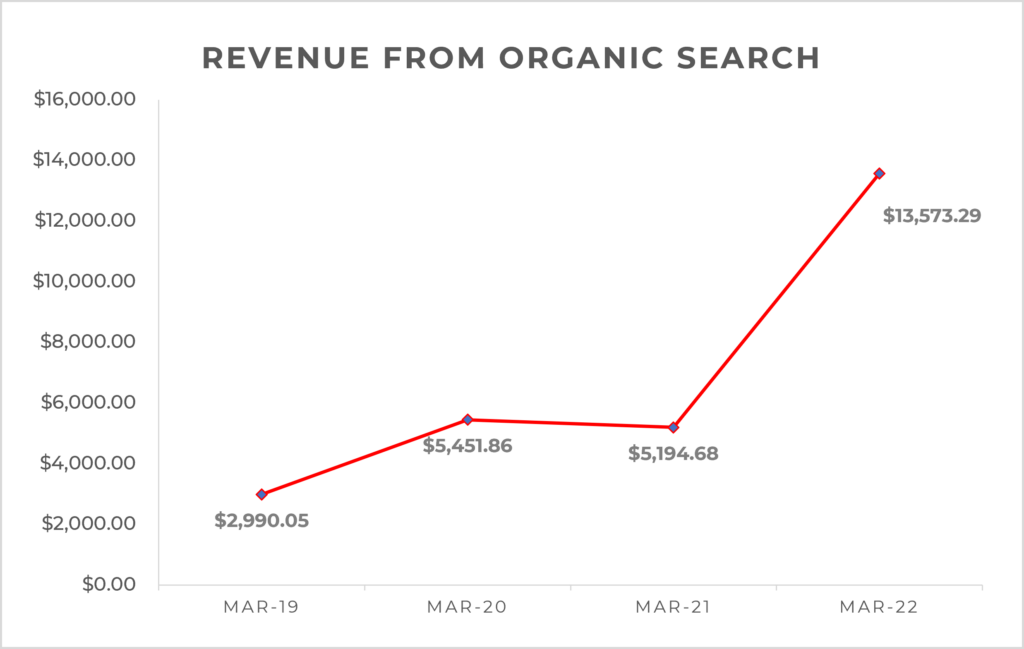 a) +354% increase in organic revenue Mar 2019 vs Mar 2022 ($2,990.05 vs $13,573.29).
b) +161% increase in organic revenue Mar 2021 vs Mar 2022 ($5,194.68 vs $13,573.29).